Controller's mistake at Reagan airport shows safety plans worked
The lone air-traffic controller at Reagan airport Wednesday night may have been snoozing, but safeguards allowed planes to land, say aviation officials.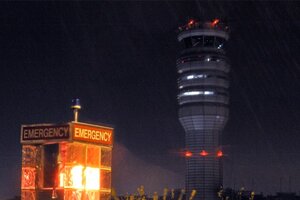 Cliff Owen/AP
The fallout from the incident at Washington's Reagan National Airport, where two planes were forced to land without clearance or guidance from the tower continues to mount. The sole on-duty-control tower supervisor at the airport on the overnight shift Wednesday may have fallen asleep, officials say.
• The controller, whose name has not been released, was suspended by the Federal Aviation Administration (FAA) Thursday.
• Secretary of Transportation Ray LaHood has ordered the airport to add an additional person to the overnight shift and has advised the dozens of airports that operate overnight with only one controller to review their policies.
• Rep. John Mica (R) of Florida, chairman of the House Transportation and Infrastructure Committee, said his committee would investigate the incident.
But the event should not be characterized as "a potential major catastrophe" averted, says retired American Airlines pilot Mark Weiss. "There are layers of protection that are built into the system," Mr. Weiss told Washington's Fox affiliate. "Other air traffic controllers took over and filled in the gaps."
---
Follow Stories Like This
Get the Monitor stories you care about delivered to your inbox.