Japan nuclear update: Possible reactor breach, evacuation zone expanding
Three workers waded Thursday through water with critically elevated radiation levels. They are now being monitored, and officials are encouraging residents outside the initial evacuation zone to relocate.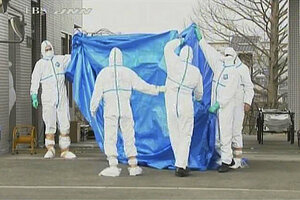 NHK via Reuters TV / Reuters
It is likely that the No. 3 reactor at Japan's Fukushima Daiichi nuclear plant is leaking radioactive materials, Japanese officials said Friday.
If that turns out to be true, the devastated nuclear complex may be much more contaminated with radioactive materials than officials had previously thought.
The suspected reactor breach would mark a major setback for the crews racing to return power to the plant and bring its reactors and spent-fuel pools back under control.
Japanese Prime Minister Naoto Kan said Friday that the situation at Fukushima remained grave: "We are not in a position where we can be optimistic. We must treat every development with the utmost care."
Two weeks to the day after an earthquake and tsunami devastated northeastern Japan, authorities had hoped that they could see an end to their fight to prevent more widespread release of radioactive material from Fukushima Daiichi, also known as Fukushima I. Connection of temporary electrical lines has returned lights to reactor control rooms, one by one. Instruments are beginning to function again at most units. Some coolant pumps are being tested to see if they can return to life.
But a serious accident March 24, in which three workers were exposed to radiation in the turbine room of the No. 3 reactor, alerted authorities to the possible reactor breach, according to NHK World News.
The workers were dragging an electrical cable through contaminated water to restart a crucial pump when water poured over their protective boots, soaking their feet. They ignored warning alarms sounded by their personal radiation dosimeters, perhaps in the belief that they were faulty, according to an account of the accident from the International Atomic Energy Agency.
---