Radioactive seawater in Japan raises new fears of reactor crack
Levels of radioactive iodine reached 1,250 times above normal in seawater off the coast of Japan's stricken Fukushima Daiichi nuclear plant, raising concerns about a containment crack.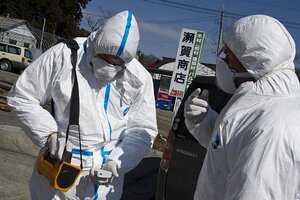 Christian Slund/Greenpeace/Reuters
Still working under the looming shadow of a complete meltdown, officials at Japan's tsunami-stricken Fukushima Daiichi nuclear plant saw recent encouraging news buffered Friday by another troubling development: radioactive water seeping out of reactors and directly into the Pacific, Japan's critical protein lifeline.
Tests done 330 meters from one of the plant's coolant water outlets showed radioactive iodine levels at 1,250 times normal, raising new concerns that one of the three hardest-struck reactors may be allowing radioactive materials to leak directly into the environment. Officials fought back against that assessment Friday. "There is no data suggesting a crack," said Nuclear and Industrial Safety Agency spokesman Hidehiko Nishiyama.
Nevertheless, "the situation today at the Fukushima Daiichi power plant is still very grave and serious. We must remain vigilant," Prime Minister Naoto Kan said.
Japan Fukushima nuclear crisis: A timeline of key events
Entering the third week since the powerful earthquake and ensuing tsunami that killed at least 10,000 and left another 17,000 Japanese missing, the world has anxiously watched as officials try to regain control over several damaged Fukushima reactors, all of which lost power after the earthquake, causing several explosions and emissions of radioactive steam and smoke.
---