Traces of Japanese radiation detected in 13 US states
Radiation has been detected in the air or water in 13 states, but 'far below levels of public health concern.' Rainwater is called safe to drink. Massachusetts is monitoring milk supply.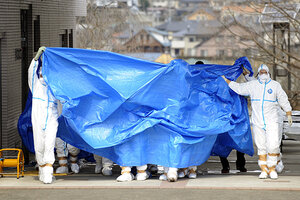 Kyodo News/AP
Elevated yet still very low levels of radiation from the Fukushima Daiichi nuclear crisis have now been detected in the air or water in more than a dozen US states and three territories, federal and local authorities say.
Higher than usual levels of radiation were detected by 12 monitoring stations in Alaska, Alabama, California, Guam, Hawaii, Idaho, Nevada, Saipan, Northern Mariana Islands, and Washington State over the past week and sent to Environmental Protection Agency scientists for detailed laboratory analysis, the agency said in a release Monday.
Unusual, yet still very low "trace amounts" of radiation, were also reported in Massachusetts rain water and by state officials and nuclear power plant radiation sensors in Colorado, South Carolina, North Carolina, Florida, and Pennsylvania, the Associated Press and Reuters reported.
"Some of the filter results show levels slightly higher than those found by EPA monitors last week and a Department of Energy monitor the week before," the EPA said in its statement Monday. "These types of findings are to be expected in the coming days and are still far below levels of public health concern."
While radiation levels now being seen in some rainwater exceed permitted levels for drinking water, for instance, the federal standard is calculated based on long-term exposure over 70 years – and those levels are expected to last only a relatively short while, the EPA said in a "frequently asked questions" portion of its statement.
One key radioactive particle being detected is iodine 131, a product of nuclear fission. Trace amounts of I-131 were trapped in clouds, and recent rains deposited I-131 in collection containers, the Massachusetts Department of Public Health reported Monday.
Rainwater called safe
---