New York Times paywall: Savior of journalism or confusing debacle?
The New York Times begins forcing users who read more than 20 articles a month online to buy a subscription. It seeks to break new ground in the bid to make online content profitable.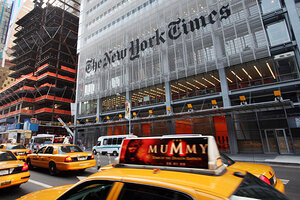 Mark Lennihan/AP/File
On Monday, The New York Times rolled out its newest plan to entice readers to pay for web-based stories. For an industry whose very existence could depend on finding ways to raise revenues from online content, the Times scheme is being watched closely by media consultants eager to see if this might be a model that providers of online content can emulate.
In short, the Times will let readers access 20 articles a month for free, but further reading will require a monthly subscription. The Times has unsuccessfully tried charging user fees before, and this time, too, it could confront problems as users tussle for awhile with a multitiered approach that charges different fees depending on how you access the material, experts say.
But the Times pay model, which cost $40 million to implement, might be a pivot point for the online news content industry, says Dale Carr, CEO of LeadBolt, a firm that helps online companies maximize ad revenues. He calls it one of the largest experiments in online journalism
"Many treat this as a huge gamble," he says via e-mail. But he points out that since the Times's last effort to charge for content, seismic changes have overtaken the digital marketplace – most notably the explosion of "apps" on mobile devices such as the iPad and Kindle.
'Eureka' moment
---