Bronx Zoo cobra: her top 4 tweets
Bronx Zoo cobra run amok? The Bronx Zoo insists its missing Egyptian cobra is probably hiding on zoo property. But the Twitter account @BronxZoosCobra suggests that the Bronx Zoo cobra is involved in a little Big Apple high jinks. Here are the four funniest tweets.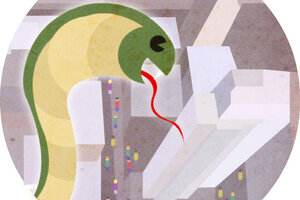 4.

Empire State snake

"On top of the Empire State Building! All the people look like little mice down there. Delicious little mice."