Fukushima warning: US has 'utterly failed' to address risk of spent fuel
Nuclear experts told Congress Wednesday that spent-fuel pools at US nuclear power plants are fuller than safety suggests they should be. They say the entire US spent-fuel policy should be overhauled in light of the nuclear crisis at Japan's Fukushima plant.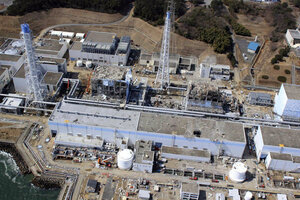 Air Photo Service/Reuters
The travails of the Fukushima Daiichi nuclear power plant in Japan are highlighting a key question for the US: Why are America's nuclear power plants allowed to store tons of used but still highly radioactive fuel in pools for as many as 100 years – despite the fact that those pools are far more vulnerable to terrorist attack than the reactors themselves?
In Japan, a relatively small amount of used-up fuel was sitting in Fukushima's seven spent-fuel pools when disaster occurred. Yet after just days without a cooling system, most water in at least one pool had apparently boiled away, a fire was reported, and radiation levels soared.
By contrast, nuclear utilities in the US have over decades accumulated some 71,862 tons of spent fuel in more than 30 states – the vast majority of it sitting today in pools that are mostly full, according to a recent state-by-state tally by the Associated Press. It's a huge quantity of highly radioactive material equal to a great many Chernobyls' worth of radioactivity, nuclear experts say.
---