Japan considers unusual fixes to contain radioactive leak
Japanese and US officials are proposing resin, a giant tarp, and even robots in efforts to slow the leak of radioactive material from Japan's damaged Fukushima Daiichi nuclear power plant.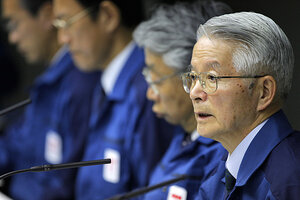 Itsuo Inouye / AP
As radiation continues to spread from the crippled Fukushima Daiichi nuclear plant, Japanese and US officials are considering novel measures to try to corral the contamination.
Sticky resin may help. On Thursday, Tokyo Electric Power (TEPCO) plans to test it, spraying this adhesive substance on an area of ground near the plant, said Japanese nuclear safety authorities on Wednesday. The idea is to glue down any fallen radioactive particles.
A giant tarp has also been proposed. Japanese Chief Cabinet Secretary Yukio Edano said nuclear experts might cover reactor buildings with a special material to try and stop emission of radioactive substances.
The US is readying a shipment of radiation-hardened robots to help the Japanese fight this problem, said Peter Lyons, acting assistant secretary of the US Department of Energy.
"We're moving expeditiously to ship not only the robots but also operators who [would] train Japanese operators," Dr. Lyons told a Senate committee on Tuesday.
---