Radioactive milk found on West Coast, but levels are 'minuscule'
Radioactive milk linked to the Japan nuclear crisis has been detected in samples from California and Washington State. But the amounts are so tiny that they pose no health risk, officials say.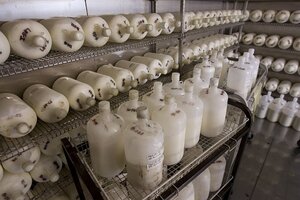 Dave Martin/AP
Low levels of iodine-131 have been detected in radioactive milk samples from Spokane, Wash., and at a dairy in San Luis Obispo County, Calif. But the amounts are so low that they pose no health risk, report the Environmental Protection Agency and the US Food and Drug Administration.
Federal and state government scientists believe slight amounts of radioactive material from the Fukushima Daiichi nuclear reactors damaged in the recent earthquake and tsunami drifted over parts of North America, settling on grass and other feed crops eaten by milk cows.
But the amount of radioactive iodine-131 detected in milk is more than 5,000 times lower than what the FDA calls the "Derived Intervention Level" – the concentration of radionuclide activity adopted by the FDA to help determine whether domestically-produced food or food imported into the US presents a safety concern.
---