Japan nuclear update: Where will they put the radioactive water?
As pools of highly radioactive water are found beneath Japan's damaged reactors, authorities hoping to protect the ocean and groundwater are struggling to find adequate storage.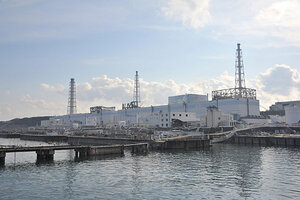 Japan Maritime Self-Defence Force/Reuters
Japanese authorities on Friday were struggling with a new problem at the devastated Fukushima Daiichi nuclear plant: where to put tons of radioactive water.
In recent days workers at Fukushima have discovered contaminated pools filling basements and maintenance tunnels beneath some of the damaged reactors. They've been sandbagging tunnel outlets and hooking up more pumps in an effort to prevent this water from reaching the ocean or filtering into groundwater.
But on Thursday International Atomic Energy Agency officials announced that earlier in the week workers had stopped pumping radioactive water from the basement of the Unit 1 reactor because the unit's turbine condenser – the place they had been putting the water – was full.
Japan Fukushima nuclear crisis: A timeline of key events
Before being forced to stop workers had managed to pump out about half the radioactive water in the Unit 1 basement, according to Japan's Nuclear and Industrial Safety Agency.
Turbine condensers at Units 2 and 3 were also full, Tokyo Electric Power Company (TEPCO) officials said. To try and open up more water storage space workers were beginning to pump water from these condensers into that serve most of Fukushima's reactors.
IAEA: Situation still 'very serious'
The suppression pool surge tanks, which are used to empty the suppression pools designed to absorb excess energy in emergencies, can hold about 3400 tons of water. As of Thursday, they were about one-half to one-third full.
---