Fuselage cracks: Is the problem with Southwest Airlines or Boeing 737s?
The FAA called Monday for inspections of older Boeing 737s, after an incident on Friday in which the roof tore off Southwest Airlines Flight 812.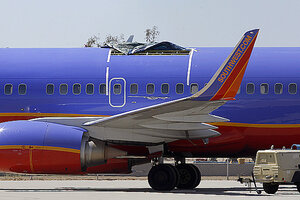 Ross D. Franklin / AP
An incident in which a Southwest Airlines jet tore open during flight has raised questions about the reliability of industry procedures used to test older airplanes for invisible cracks. The jet was able to land safely Friday, but Southwest was still scrambling Monday to test its planes.
While Southwest is the focus of attention, some are asking whether airplanes operated by other companies could also be vulnerable to similar failures.
Friday's accident gives no cause for concern about the structural integrity of airplanes in their early years of service, say some air safety experts. The Southwest airplane that departed from Phoenix Friday was an older one, as measured by the number of its takeoff and landing cycles.
The Federal Aviation Administration (FAA) said Monday it will issue an emergency safety order requiring special inspections of about 175 older 737s worldwide. About 80 of the planes are registered in the US, with nearly all of those operated by Southwest.
"Safety is our number one priority," said Transportation Secretary Ray LaHood. "Last Friday's incident was very serious and could result in additional action, depending on the outcome of the investigation."
Southwest had already begun inspecting a portion of its fleet of 548 aircraft – all of which are Boeing 737s. The airline has found sub-surface cracks in three other planes, it said Monday. After further testing, those may need repairs before returning to service.
---