Tax Day 2011: What's new for homeowners
Homeowners who got the first-time homebuyers tax credit in 2008, beware. You have to start paying it back on Tax Day 2011. But other homeowners are in line for new deductions.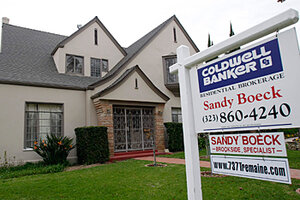 Mario Anzuoni/Reuters/File
The nation's embattled homeowners may find some financial solace this year as Tax Day rolls around on April 18. A slew of credits and deductions can help ease the overall bite of federal taxes.
Below you'll find a reminder of some of the main tax benefits that come along with the costs of owning a home. The tax benefits may be especially welcome at a time when the home values in many parts of the country remain far below their pre-recession peak.
But first, a warning about the opposite situation, a new tax burden on some Americans with mortgage payments: If you purchased a home in 2008 and reaped a special tax credit for first-time homebuyers, pay attention this year.
It turns out the tax credit, designed to stimulate home sales during the recession, is more like a no-interest loan. Homebuyers need to pay it back, in 15 equal installments, starting in the 2010 tax year that's now coming due.
"To repay the credit, you must attach a completed Form 5405 to your tax return each year" starting in 2010, the Internal Revenue Service says in a news release. The IRS includes further details noting some exceptions to the rule and what happens when people sell the home before 15 years go by.
Note that this repayment rule only applies to homes purchased in 2008. The homebuyers tax credit in 2009 and 2010 had different terms with no repayment required.
Now to the tax breaks that homeowners may be able to claim for 2010. Here are some of the biggest opportunities, according to CCH, a publisher of tax information:
---