Fort Sumter cannons sound again: the Civil War 150 years later
Fort Sumter marked the start of the Civil War, with Confederates shelling it on April 12, 1861. Today, the cannon rolls still reverberate in a country that remains at peace, but torn by ideological divides.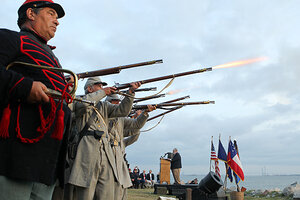 Alice Keeney/AP
On the morning of April 12, 1861, Charlestonians huddled on rooftops, listening to the man-made thunder directed at the federal outpost at Fort Sumter – the first blows of the Civil War.
Since the inauguration of President Lincoln, who had vowed to end the western expansion of slavery while somehow preserving the union, tensions had been gaining strength – fueled by the abolitionist movement, slavery-related skirmishes in the western territories, and the Second Great Awakening (a religious revival movement). As a result of Fort Sumter, these pressures spilled over into a great national convulsion: The undermanned, undersupplied South carried out secession on the ground, and Lincoln, bolstered by a direct attack on federal troops, mustered forces to stop it.
While South Carolina politicians vowed that no more than a thimble of blood would be spilled at Fort Sumter – an accurate description, actually, as no one was hurt from the fusillade – the war dragged on for four years almost to the day. It left more than 620,000 Americans dead, the South in tatters, and the nation at a moment of rebirth.
As modern-day Charlestonians – some dressed in Civil War garb, most in street clothes – solemnly celebrated the moment Tuesday with predawn music and the firing of cannon blanks, the country retains an uneasy peace, 150 years to the moment. Some Americans contend the war is still being fought. California Gov. Jerry Brown (D) said Monday the nation is facing a "regime crisis" and a "point of civil discord" of a magnitude not seen since before the Civil War.
---