Fukushima gets worst crisis rating. But how much radiation has been released?
Based on new estimates of the radiation that has been released, Fukushima now has the worst score on the IAEA's accident rating scale. But much about the reactors, and their future, is still unknown.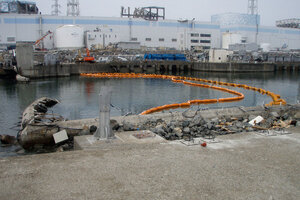 Tokyo Electric Power Co./AP
Japan on Tuesday raised its assessment of the severity of the situation at the crippled Fukushima Daiichi nuclear plant to 7 – the worst score possible on the accident rating scale overseen by the International Atomic Energy Agency.
That does not mean the Fukushima crisis has suddenly become more dire. Japanese nuclear regulators said they moved the rating up from its previous position of 5 due to new assessments of the total amount of radiation released from the plant since it was pulverized by an earthquake and tsunami on March 11.
So far the Fukushima accident has resulted in a release of about one-tenth of the amount of radiation that escaped from Chernobyl, the worst civilian nuclear disaster to date. Japanese officials said there was a small chance that Fukushima could eventually exceed Chernobyl's emissions if workers are not able to soon restore the site's crippled cooling systems.
IN PICTURES: Japan's 9.0 earthquake
"This reconfirms that this is an extremely major disaster. We are very sorry to the public, people living near the nuclear complex, and the international community for causing such a serious accident," said Chief Cabinet Secretary Yukio Edano.
---