How can Fukushima crisis be rated as severe as Chernobyl?
According to the IAEA's scale, the Fukushima crisis in Japan is now a 7, the most severe rating and equal with Chernobyl. But experts say the scale is deeply flawed.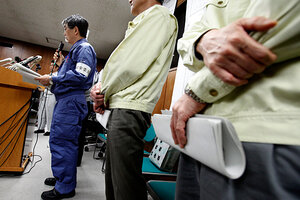 Yuriko Nakao/Reuters
Some specialists are questioning the usefulness of an international scale for measuring the severity of nuclear accidents – a scale that now rates the Fukushima Daiichi crisis in Japan as equal to Chernobyl.
They note that even by the most dire estimates Fukushima has released only one-tenth the radiation that Chernobyl did. Moreover, they suggest that scale is not intended to help politicians and the public decide how to act – it was designed by engineers for engineers, and is even flawed in that respect, they say.
Officials at two Japanese agencies that oversee the nuclear industry jointly announced they were elevating the severity of the crisis on the International Atomic Energy Agency's (IAEA) severity index from 5 to 7, the maximum ranking.
But the scale "doesn't trigger anything," says David Ropeik, who heads Ropeik & Associates, a risk-management consulting firm in Concord, Mass. "Here it is being used, and it's demonstrating that it can't even categorize things that precisely."
---