Coming soon on Facebook and Twitter: terror threats from Homeland Security
Homeland Security will stop using color-coded threat levels and replace them with a more specific, targeted alert system, the Homeland Security chief said Wednesday.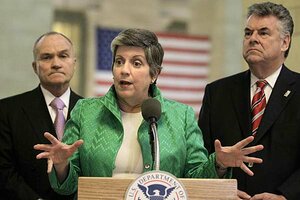 Brendan McDermid / Reuters
Say goodbye to those "orange" and "red" alert signs that tell the public – in very non-specific terms – about terror threats to the nation.
Instead, starting next Tuesday, the Department of Homeland Security will issue much more specific information, either as an "elevated threat" that warns of a credible terrorist threat or an "imminent threat" that gives even more specific information such as an actual location or type of attack.
On Wednesday, Homeland Security Secretary Janet Napolitano described the new system as a better way to keep the public informed about potential attacks.
"It will provide alerts on specific credible information about potential terrorist activity," said Ms. Napolitano, speaking at a press conference in New York's Grand Central Station. "They will give you as many details as we can provide in an unclassified form."
"This is a common sense evolution of the system," says Daniel Kaniewski, deputy director of the Homeland Security Policy Institute in Washington. "She has basically removed the lower levels and acknowledged we are at a certain level all the time."
---