On Gulf, coming tourist, fishing seasons will reveal oil spill legacy
A year after the Deepwater Horizon explosion triggered the mammoth Gulf oil spill, fishermen, hotel owners, and oil workers in Grand Isle, La., aren't sure if the old nature-oil balance can be regained.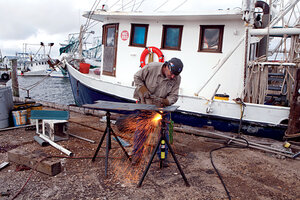 Melanie Stetson Freeman/Staff
Louisiana's only stretch of beach is perhaps prettier than ever, its rough sand smoothed daily by armadas of BP-funded beach zambonis combing for tar patties. At the bayside wharf, shrimp boats and crab skiffs are freshly painted and ready to go. Twenty-three fishing rodeos are back on the calendar.
A remote barrier spit, Grand Isle, La., is gearing up for high season a year after the world's largest offshore oil spill in peacetime. But behind the seagull-specked Gulf-side idyll, there's a deep crack in the island's Cajun bravura.
This is the moment America's Gulf Coast has been both anticipating and dreading. The moratorium on drilling in the Gulf has been lifted, and within the next month or so, the tourist season will begin in earnest and the first postspill fishing season will commence. Since the Deepwater Horizon oil rig exploded on April 20, 2010, the Gulf has been waiting to return to normal. The months ahead will be the first real test of whether that is possible.
By many measures, there is reason to hope. One comprehensive study suggests that finfish, shrimp, crab, and oyster stocks have remained largely resilient to the spill. Moreover, President Obama's recent speech backing more domestic oil production sent signals that the offshore industry could be revitalized.
Yet the mood on Grand Isle is one of pervasive angst. Hurricanes come and go and people here are used to rebuilding, but in these drawn-out weeks of suspense, residents have little to do but wait. Many worry that the worst of the BP oil spill has yet to arrive. Fish and crab catches are down in some areas. And storms shake up stagnant oil, washing weathered tar patties ashore as reminders of the "disappeared" oil that the vast majority of islanders believe has settled to the bottom, ready to be stirred up by the next hurricane.
---