Security lags cyberattack threats in critical industries, report finds
The world's water treatment plants, power grids, and other vital industries are seeing escalating cyberattacks, but are not ramping up security fast enough, says a new global report.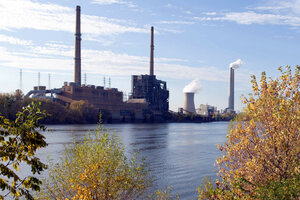 Saul Loeb/AFP/Newscom
Industries crucial to the functioning of society – such as water treatment systems, power plants, and oil and gas facilities – use computer-controlled systems that are under fast-growing cyberattack by hackers, often affiliated with government and organized crime groups, says a new report. These key industries, it adds, often are not boosting security to deal with the threat.
For decades, industrial control systems that operate the power grid and other vital infrastructure enjoyed "security by obscurity." Cybercriminal gangs saw better places to make money. That's changed in a flash.
A drumbeat of reports in recent years has warned of the corporate trend to connect previously isolated vital systems to the Internet, making them more vulnerable to criminal and government hackers seeking to infiltrate infrastructure networks.
Against this backdrop, "In the Dark: Crucial Industries Confront Cyberattacks," a global survey of 200 computer security professionals working in critical infrastructure industries, sends up another warning flare.
Cyberexploits and cyberattacks on vital infrastructure are now widespread, and perpetrators range from cybercriminals engaged in theft or extortion to foreign governments preparing sophisticated attacks, the report says. The Stuxnet worm was last year's key example – a cyberweapon that targeted Iran's nuclear program and damaged it, and that experts say could be modified to damage other systems.
---