Fatigue in US air travel system: It's not just air traffic controllers
Air travel is safe (and most air traffic controllers don't nod off), but there are warning signs aviation officials must grapple with.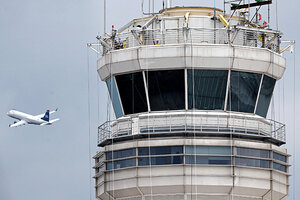 Cliff Owen/AP
A series of high-profile events, from near misses in the air to sleeping air-traffic controllers on the ground, have rattled air travelers nationwide. They worry that the US aviation system is becoming increasingly overstretched. But the incidents are less a sign of an immediate crisis than a glimpse of the challenges that lie ahead as a generation of traffic controllers retire and air traffic continues to rise, aviation analysts say.
They note that accidents in US skies have not increased. Measured in fatalities, the nation's airways remain at historically high levels of safety. But the events serve as an important reminder that constant vigilance is needed to maintain that track record on safety. Among the warning signs:
•A year ago there was a string of close calls in which aircraft passed within a mile, and sometimes much less, of one another. That's an alarming proximity, given that planes travel at such high speeds.
•More recently, a surprising maintenance worry emerged when a hole opened in the roof of a Boeing 737 departing from Phoenix, suggesting that the planes can develop structural weaknesses much sooner than engineers had realized.
•Then came reports of traffic controllers asleep or distracted while on the job, which prompted a call by the Federal Aviation Administration (FAA) for a "top to bottom review" of traffic-control systems.
---