Alabama tornadoes: Why was state's tornado death toll so high? (video)
The death toll from Wednesday's tornado outbreak across the South is now likely to top 200, with at least 131 fatalities in Alabama. Gov. Robert Bentley defends the state's preparedness.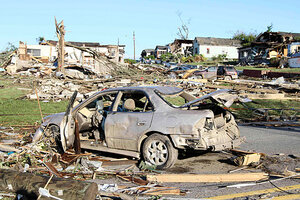 Marvin Gentry/Reuters
As he commands search and rescue efforts in more than a dozen tornado-devastated Alabama counties, Gov. Robert Bentley is pushing back against the suggestion that the state – and its residents – were unprepared for what may become known as the most violent storm in Alabama history.
On Thursday, state officials expected the casualty toll to rise higher than the 131 deaths reported, as daylight allowed a more thorough search for the missing in vast areas of destruction.
Governor Bentley reminded reporters on Thursday that Alabama has a long history of deadly tornadoes. The state saw the greatest number of casualties in the 1974 "Super Tornado Outbreak," which killed 318 people across the US and Canada, with 77 perishing in Alabama. He added that "incessant" TV and radio coverage of the storm system had residents on high alert all day Wednesday. Most Alabama counties are equipped with tornado sirens, which sounded Wednesday.
"We were very prepared,... but it was just the force of the storms," Bentley said. "When a [large tornado] hits a highly populated area like Tuscaloosa, you cannot move thousands of people in five minutes. When an F4 or F5 tornado hits, there's not much you can do to change the outcome of that." As measured by a tornado ranking system, F4 and F5 tornadoes are the most intense, rated by the damage a tornado causes after passing over a manmade structure.
A system that spawned 137 tornadoes before moving toward the East Coast bore down on several Alabama cities Wednesday, including Tuscaloosa, Birmingham, and Huntsville, the state's aerospace capital. It forced the Tennessee Valley Authority to power down three nuclear reactors in Alabama as a precaution, as a plant in northern Alabama lost offsite power. As many as 1 million residents are without power – and hundreds, if not more, are without homes.
---