What Obama will find in tornado-torn Alabama
President Obama travels to Alabama Friday to see first-hand the impact of tornadoes whose casualty toll across six states rises to 319.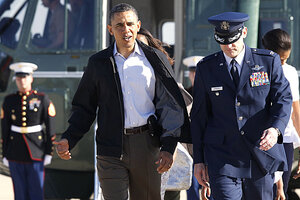 Charles Dharapak / AP
Along with shocking visages of flattened neighborhoods, shattered farms, and torn-up valleys, President Obama will confront staggering grief, numb shock, – as well as a measure of deep resolve – as he tours Alabama today.
The President and first lady will join Alabama Gov. Robert Bentley and FEMA officials to survey the destruction. Obama is likely to make comments during at least two stops during the day, according to the White House. On Thursday, the president called the devastation "heartbreaking."
"In a matter of hours, these deadly tornadoes – some of the worst that we've seen in decades – took mothers and fathers, sons and daughters, friends and neighbors, even entire communities," Obama said. "I want every American who has been affected by this disaster to know the federal government will do everything we can to help you recover, and we will stand with you as you rebuild."
The rising death toll – now at 319 across six states, with over 200 in Alabama alone – has surpassed a 1974 "Super Tornado Outbreak" that spanned most of the nation, and now approaches the toll of strongest tornado system in US history, the "Tri-State Tornado" of 1925, which claimed 695 American lives as it traveled 219 miles.
---