Mixed messages on US airport security after Osama bin Laden death
Federal officials said there were no immediate specific threats to the US after the death of Osama bin Laden. But some airports and local security officials said they were on heightened alert.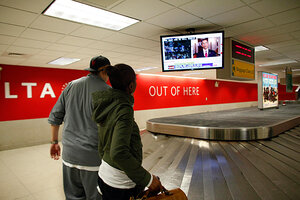 Eric Thayer/REUTERS
Airports and other potential targets of terrorist attack operated Monday in a state of heightened vigilance following the death of Al Qaeda leader Osama bin Laden in a Pakistan firefight with US Navy forces.
Despite concern about possible efforts to retaliate by Al Qaeda or groups aligned with the terror organization, security officials also sought to encourage a business-as-usual atmosphere.
The result was a mixed message, with some airports or municipal security agencies emphasizing that they were not taking unusual procedures, and others saying they were on heightened alert.
John Brennan, the top counterterrorism adviser to President Obama, said the US government knew of no immediate specific threats.
In the US, the Transportation Security Administration issued a low-key advisory, including this statement: "As always, passengers may notice a variety of security measures at US airports to include the use of physical bag checks, random gate screening, explosives-detection technology, canine teams, and behavior detection officers."
The statement asked travelers to report any suspicious activity to authorities, and Mr. Brennan said US security agencies would ramp up their vigilance against possible attacks.
• New York City authorities briefly shut down a street in Times Square after investigating a suspicious package Monday which turned out not to be dangerous, the city's fire department said.
---