On jihadi websites, disbelief and vows of revenge over bin Laden's death
Supporters of Osama bin Laden began posting on jihadi websites – Al Qaeda's main public relations arm on the Internet – within minutes of the announcement bin Laden had been killed.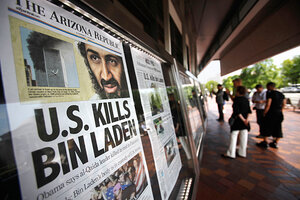 Jacquelyn Martin/AP
Osama bin Laden's supporters around the world posted comments to jihadi websites and social media Monday that ran the gamut from disbelief and dismay to rage and vows of revenge – to hailing Al Qaeda's fallen leader as a martyr with quick assurances the fight would go on.
Minutes after President Obama announced that bin Laden had been killed, online commentary began sprouting on a dozen or so jihadist websites or "forums" worldwide that constitute the main public relations arm of Al Qaeda on the Internet.
"There are three kinds of reaction so far – some deploring the death and writing about the martyrdom of bin Laden," says Dr. Ely Karmon, a senior researcher at the International Institute for Counterterrorism in Herzliya, Israel. "Others are talking about revenge for his death. Still others – including two Taliban spokesmen – have threatened retaliation.... It's a huge response, but for the moment we're seeing reaction mainly in the Western world."
Gauging Al Qaeda's support is important since bin Laden's death could profoundly influence its ability to raise funds and recruits and ultimately, experts say, the staying power of the organization's global affiliates. So analysts were reading the tea leaves for early signs of whether jihad supporters would fold and go home – or rally electronically behind the group's new leader.
---