Osama bin Laden dead: How the US found him
Years of 'persistent hard work' led US intelligence to a complex about 50 miles northeast of Islamabad, Pakistan, where a 40-minute US special forces strike left Osama bin Laden dead.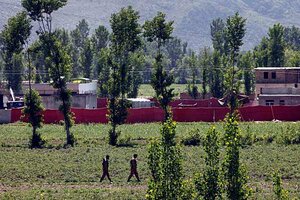 Faisal Mahmood/Reuters
Osama bin Laden's death proves a truism about the US struggle with terrorism: intelligence can be more important than firepower.
The strike team that killed bin Laden was small, with limited weapons. But years of painstaking intelligence work provided that team with the precise location of Al Qaeda's leader.
The result was a 40-minute operation that may rank as one of the greatest raids in US military history. Al Qaeda surely will live on. But the elimination of its inspiration and founder must still be a crushing blow to the Islamist organization, as the tenth anniversary of its September 11 attacks on America approaches.
"By any measure, the operation was a tremendous success," says Rick "Ozzie" Nelson, director of the homeland security and counterterrorism program at the Center for Strategic and International Studies in Washington.
As described by senior administration officials, the intelligence process that led in the end to a walled compound a half-mile from a Pakistani military academy was a slow and careful manhunt.
---
Follow Stories Like This
Get the Monitor stories you care about delivered to your inbox.