Revenge for Bin Laden killing: How worried should Americans be?
Official threat level is unchanged, but security is tight at airports, subways, and other gathering spots, in wake of Bin Laden killing. 'Revenge is very important' to jihadists, warns one expert.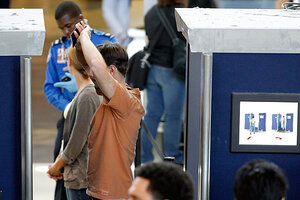 Danny Moloshok/Reuters
In the wake of the US Navy Seals' killing of Al Qaeda leader Osama bin Laden on Sunday, security in American cities has been heightened amid concern that Al Qaeda or its sympathizers may try to retaliate against the United States.
Travelers will see more intense screening at airports. In subways and other areas with heavy foot traffic, police, often with K-9 units, are more apparent. Plainclothes officers are keeping an eye on hotels where dignitaries often stay. An elite unit of Marines trained to handle chemical and biological weapon attacks has been recalled from Japan. Many other security measures that are not readily apparent are doubtless being taken.
How long will this extra vigilance continue? And how will the antiterrorism forces know it's safe to relax?
The Department of Homeland Security has not raised the threat level since Bin Laden's death, saying it takes that step only in the face of specific or credible information. But some terrorism experts in the US say it's not a matter of "if" there will be a revenge attack but of "when" – and their level of concern is high.
"Revenge is very important to them," Tawfik Hamid, chairman for the Study of Islamic Radicalism at the Potomac Institute, a think tank in Washington, says of jihadists. "It is part of the mental process, part of the culture."
---