'Geronimo' and Osama bin Laden: What goes into a code name?
'Geronimo EKIA' is what special forces said when Osama bin Laden was killed. Code names can provide some insight into what an agency is thinking. Che Guevara had a curious one, too.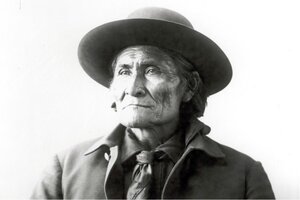 Newscom
On May 1, President Obama and others in the White House situation room heard the words, "We've ID'd Geronimo," and soon got the word that Osama bin Ladin had been killed: "Geronimo EKIA," shorthand for "enemy killed in action."
It is not known which branch of the armed forces or intelligence community decided to use "Geronimo" as the code name for Mr. bin Laden during the Sunday raid of his compound in Abbottabad, Pakistan. But that choice has left some Native Americans unable to fully celebrate what otherwise would be welcome news.
The issue will be discussed at a Senate Indian Affairs committee hearing Thursday. The hearing on racial stereotyping of Native Americans had been scheduled prior to bin Laden's death.
Hours after the Geronimo code name was reported, reports suggested that White House officials had revised the story, saying Geronimo was a general name for the operation, not for bin Laden himself. Historically, code names have ranged from affectionately flippant to openly disparaging, and sometimes reflect how the government organization bestowing the name views the person.
---