Lessons from the wreckage: How Alabama could help tornado preparedness
Meteorologists are combing through the damage from last week's historic tornado outbreak in Alabama, hoping to find clues about how to save more lives in the future.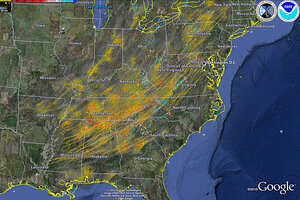 USDA Farm Service Agency / National Weather Service / NOAA
For National Weather Service forecasters in areas stricken by last week's devastating tornadoes, the tension-filled business of tracking violent weather has given way to a more somber responsibility.
Many of them have been walking block by block through heavily damaged areas, interviewing survivors, recording the damage to homes and farms, in an attempt to to see what lessons the tragedies may hold for improved warnings, better building codes, and a better understanding of how the twisters and the storms that spawn them grow, mature, and fade.
In some cases, investigators also face the task of rebuilding -- forecasters whose homes were among the structures damaged or destroyed by the the April 25-28 outbreak.
By nearly every measure,"this was historic," says Jim Stefkovich, lead forecaster at the NWS's forecast office in Birmingham, Ala., which took a direct hit from an EF4 tornado that also took a swipe at Tuscaloosa, some 50 miles to the southeast. On what is known as the enhanced Fujita scale for categorizing twisters by the damage they inflict, EF4 is the second highest designation. An EF5 tornado, the most damaging category, powered through Huntsville County on April 27.
"We were predicting 24 to 48 hours in advance" that the area would face "strong to violent tornadoes" with long tracks, Mr. Stefkovich says. The storm system more than lived up to its billing.
Over the past 30 years, Alabama has averaged 37 tornadoes a year, he continues. In April 2011, the state experienced 72 tornadoes; 41 hit during a mid-April outbreak. The annual record for the state stands at 94 tornadoes, set in 2008.
---