Bin Laden fallout: How Abbottabad tweets reveal changes in modern warfare
Governments are having to change how they carry out and report military operations because of the rise of social media, and the strike on Osama bin Laden was a prime example.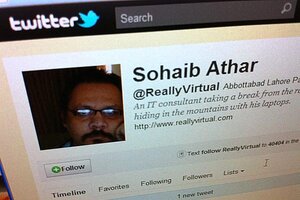 David Loh / Reuters
From the irate Pakistani tweeting about helicopter noise in the nighttime sky over Abbottabad to President Obama's globally streamed announcement of Osama bin Laden's death, social media is transforming military operations and their aftermath in today's highly interconnected world.
"The military and government can no longer claim informational superiority," says 27-year veteran Dennis Murphy, who now teaches military strategy at the US Army War College in Carlisle, Pa. "That's a term we used to have, to mean we control the message in our environment – that we determine what gets said," he says. "That's impossible any more, it's in the dustbin of history now."
The shift into an information-suffused landscape has changed everything from the strategy of a mission to its execution and sharing with what is now a global audience.
While there have always been accidental witnesses to history, "The shepherd boy watching Roman soldiers didn't have a cell phone to tell the entire world right away," Professor Murphy says with a laugh.
Whereas 10 years ago, the US might have bombed the compound, Murphy says, the new pressures of the social media could have played a role in the decision to launch a surgical, manned strike. The administration has stated that a boots-on-the-ground strike reduced the possibility of civilian casualties, and Murphy notes that photographs of dead non-combatants are powerful recruiting tools online.
---