Exclusive: Pakistan had to know bin Laden was there, most Americans say
According to a Christian Science Monitor/TIPP poll, 72 percent of Americans agree that 'Pakistan knew all along' where bin Laden was hiding. Less than a third favor declaring 'mission accomplished' in Afghanistan.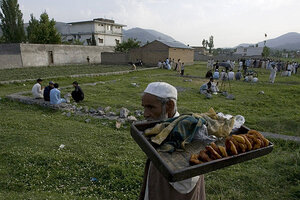 Anjum Naveed/AP
Americans don't believe for one minute that Osama bin Laden could have been living in stand-out compound in a military town in Pakistan without the government knowing about it.
At the same time, following Mr. bin Laden's death, nearly half of them say the US should "stay on course" in Afghanistan and prevent it from again becoming a base for international terrorist operations. Less than a third of Americans say the demise of Al Qaeda's leader is reason enough to declare "mission accomplished" and accelerate America's exit.
Those are among the findings of a Christian Science Monitor/TIPP poll conducted over three days following the announcement of bin Laden's death late Sunday. The poll, released the same day President Obama traveled to New York to lay a wreath at the World Trade Center site – emblem of the terrorist chief's heinous acts – registered a significant boost in perceptions of Mr. Obama as a leader.
---