Mississippi floodwaters surge in Memphis, but crest is still days away
Evacuations and closed highways are a taste of what is in store for Memphis, Tenn., as the Mississippi rises. Farther south, Jackson, Miss., residents are already being asked to evacuate.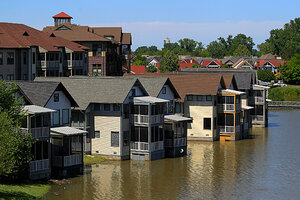 Lance Murphey/AP
Rising floodwaters in and around Memphis, Tenn., Thursday have led to evacuations, highway and school closings, and at least one death.
But the highest waters are still days away. The city's highest water level in 74 years is expected to crest next week, starting Wednesday.
The Mississippi River is currently at 45.2 feet, according to the National Weather Service, causing flooding primarily on Mud Island, which is connected to downtown Memphis through a bridge and causeway. About 5,000 residents are at risk.
A month of heavy rain and melting winter snow have combined to create a surge of dangerously high water levels moving downstream through the Ohio and Mississippi rivers.
Among the communities affected are not only those along the two rivers, but also areas along and near their many tributaries in Arkansas, Missouri, and Kentucky. Evacuations are already taking place in Dyersburg, Tenn., because of projected floodwaters coming from the north end of the Forked Deer River, which intersects with the Mississippi.
---