FBI set to kill secret-stealing Russian 'botnet.' Is your computer infected?
The FBI has seized control of a Russian cybercrime enterprise, but to kill it completely, officials may ask to rip some malware out of your computer. US diplomatic secrets could be at stake.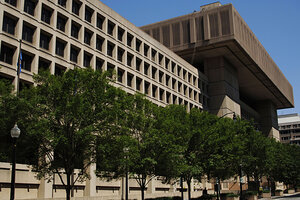 Newscom/File
The FBI might be asking your permission soon to reach into your computer and rip something out. And you don't know it's there.
In a first for US law enforcement efforts to make the Internet more secure, the Federal Bureau of Investigation has seized control of a Russian cybercrime enterprise that has enslaved millions of personal computers and may have gained access to US diplomatic, military, and law enforcement computer systems.
As if WikiLeaks wasn't bad enough.
But to destroy the criminal "botnet" for good, the FBI has to take yet another aggressive step that is alarming privacy rights advocates: remove the malware from the computers in the network. Hopefully all that gets taken out is the malware.
The FBI's target is a "robot network" dubbed the "Coreflood botnet" by investigators. It's a worldwide network created by a Russian cybercrime gang that took control of 2.3 million personal computers that vacuumed up vast amounts of US personal financial and government data for almost a decade before being targeted for extermination.
More than a million of the personal computers recruited into the botnet resided in the US, according to a filing by the Department of Justice in federal court in Connecticut last month.
As of three years ago, Coreflood was sucking up about a gigabyte of data per day and as much as 500 gigabytes a year – about equal to five library floors filled with academic journals. But it was not just credit card, wire transfer, and bank passwords – its primary target – that worried investigators.
---