Watery week ahead as Mississippi floodwaters hit Memphis, move downriver
Mississippi River at record level in Memphis, Tenn., where some areas are already underwater. It's expected to get higher, with floodwaters to linger for days. Evacuations are under way.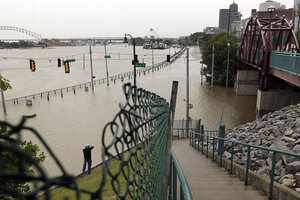 Lance Murphey/AP
Record high floodwaters are expected to crest throughout the southern Mississippi Delta next week, starting in Memphis, Tenn., Wednesday and continuing through New Orleans by May 17. As momentum builds, the bulging waters moving down the Mississippi River are backing up tributaries that feed into it, resulting in evacuations, school cancellations, and road closures as water builds.
Some areas in and around Memphis are already under water, as river levels sit at 46 feet, breaking the record of 45.8 feet set during the historic 1927 flood. The National Weather Service forecasts that the Mississippi will crest there at 48 feet Wednesday and is expected to remain standing for as many as four days.
Officials in surrounding Shelby County are issuing evacuation notices at about 1,100 homes that sit in low-lying areas along the river. In Memphis, 959 homes are being asked to evacuate. By late Friday, at least 300 people were counted at shelters at local churches.
IN PICTURES: Mississippi river floods
Water is already resting at the foot of Beale Street, the historic music corridor running through the city's downtown. Preventing Memphis from massive flooding is the bluff upon which it sits, which elevates the downtown from immediate danger.
---