Mother's Day: What are the best and worst countries for mothers?
Mother's Day provides an opportunity to look at the quality of life for mothers around the world. A recent study from Save the Children looks at data ranging from maternal mortality to education.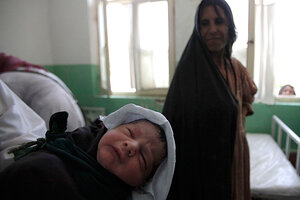 Lucy Nicholson/REUTERS/file
In Afghanistan, 1 in 11 women dies from pregnancy-related causes, compared with 1 in 7,600 in Norway, according to a study released just before Mother's Day by Save the Children.
Save the Children ranked the best and worst places in the world to be a mother. The rankings reveal stark disparities around the globe when it comes to child and maternal mortality, health care, and education.
As people celebrate Mother's Day, the report offers grim reminders of the realities that many women face.
In the bottom 10 countries ranked by the report, 1 out of every 6 children dies before the age of five, 1 out of 30 women die of pregnancy-related causes, fewer than 50 percent of births have a skilled attendant, and 1 out of 3 children suffers from malnutrition. The US didn't fare very well either, ranking 31st out of 43 developed countries.
But the report also offers some encouraging news. Over the past two decades, worldwide child deaths have decreased from 12 million to 8 million. And the report emphasizes the effectiveness of US aid in helping to improve the situation for both mothers and their children in developing countries.
---