Cockpit attack highlights four on-board incidents last weekend
Five airline passengers were removed from aircraft over the weekend. Law enforcement officials say that they do not believe terrorism played a role in any of the four incidents.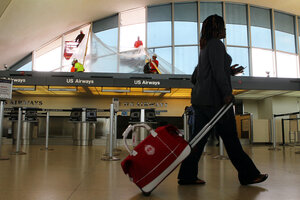 Emily Rasinski / St. Louis Post-Dispatch / AP
A week after Osama bin Laden's death, a series of incidents delayed flights and resulted in the arrest of an unruly passenger. Law enforcement officials say they do not believe the incidents are terrorism-related.
Ten minutes before American Airlines Flight 1561 was scheduled to land in San Francisco Sunday night, passenger Rageit Almurisi walked to the front of the plane and began shouting and banging on the cockpit door.
"He was walking very fast, semi-running, then passengers came up five to 10 seconds after him," Ryan Sciortino, a passenger on the flight, told the Chicago Tribune.
A male flight attendant tackled Mr. Almurisi, who was then bound with plastic handcuffs with the help of crew members and two passengers, a retired Secret Service agent and a retired police officer. Airline officials stressed that the cockpit door was locked.
Almurisi was taken into police custody and charged with interfering with a flight crew, a federal crime. A San Francisco Police Department spokesman told the Associated Press that Almurisi's motive was unclear, and said he had no known ties to terrorist groups.
---