Obama to lay out new immigration reform blueprint in El Paso
As states take unilateral actions on immigration, Obama lays out his administration's accomplishments with border security and makes the economic case for comprehensive immigration reform.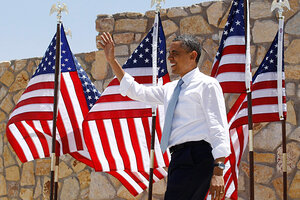 Jim Young/Reuters
President Obama is taking on one of the most divisive issues in American politics, making a renewed case for comprehensive immigration reform in a speech in El Paso, Texas on Tuesday. He'll highlight the administration's accomplishments in securing the border, as well as the economic reasons for immigration legislation.
Mr. Obama hopes to "create a sense of urgency, around the country, that matches his sense of urgency on the issue," said a senior administration official, speaking on condition of anonymity
Obama will release a "blueprint" outlining both his policy and the necessity of action, the official added.
Obama has spoken before about the need for comprehensive reform – including both tighter enforcement and a path to citizenship for some illegal immigrants – but immigration has largely taken a backseat to other issues in the first two years of his presidency. He pushed in December to get the DREAM Act passed, which would have given a path to citizenship to some immigrants brought into the US as children, but the effort failed, deeply disappointing many.
---