Mississippi flooding drowns crops and casinos: What's the economic toll?
The economic toll of the Mississippi River flooding has yet to be calculated, as the crest pushes past Memphis towards New Orleans, but is expected to run in the billions.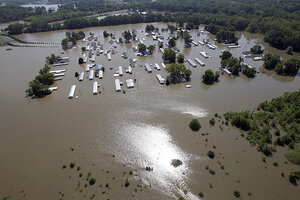 Jeff Roberson / AP
Floods swamping large areas in the lower Mississippi River region are imposing significant economic costs that may ultimately total several billion dollars.
The precise damage to economic activity is still uncertain, since the floods have not yet crested in key areas such as Baton Rouge. The impact could end up being relatively small in the context of the economy of the region and nation.
But for farmers, businesses, and individuals who have been directly affected, the costs are already significant.
IN PICTURES: Mississippi River floods
The most expensive effects include: crops lost or threatened, casinos shut down for weeks, and a mighty aquatic highway temporarily closed to freight.
$2 billion in damage to farms
Farms alone could take a $2 billion hit from the flooding, estimates John Michael Riley, an agricultural economist at Mississippi State University.
"The impacts are pretty large," he says, since much of the land near the river is agricultural – used for farming catfish, cotton, and grains such as corn, wheat, soybeans, and rice. And the flooding has spanned a large region encompassing parts of Missouri, Tennessee, Mississippi, Arkansas, and Louisiana.
---