Even miles from swollen Mississippi, flood threat 'unprecedented'
As the Mississippi River floods, its tributaries are backing up, with the Yazoo River even flowing in a reverse direction. It could not come at a worse time. Cotton and rice are starting to sprout.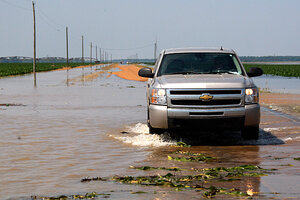 Rogelio V. Solis/AP
As the muddy waters of the Mississippi River continue to rise, the more densely populated communities along the Mississippi Delta have been garnering much of the attention – as well they should. Cresting waters have already flooded hundreds of people out of their homes and shut down 16 casinos, a serious blow to the area's economy.
But drive about two hours west of the mighty river and other water fills the landscape in the form of creeks, lakes, reservoirs, and rivers, a combined testament to the area's fertility for growing crops and to a lush environment where anything, and everything, seems to turn green.
However the endless series of these Mississippi tributaries snaking across the Delta's flat and expansive stretch of farmland makes towns like Yazoo City, nestled along the Yazoo River, just as vulnerable to disaster.
Water backed up from the Mississippi is already causing the smaller Yazoo tributary to flood, much like what happened earlier this week in the Memphis area. There the majority of damage was caused not by the Mississippi overflowing its banks in the city's downtown, but by its many tributaries, like the Wolf and Loosahatchie Rivers, failing to contain the waters the mightier river pushed back.
---