Medicare trustees call health-care reform savings 'debatable'
Medicare trustees said Friday that the program would reach financial 'exhaustion' in 13 years – earlier than previously thought. They also raised the possibility that Medicare savings in Obama's health-care reform package might not materialize.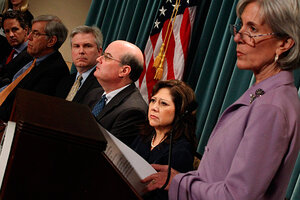 Jason Reed/REUTERS
America's Medicare program for hospital insurance will reach a point of fiscal "exhaustion" in 2024, five years earlier than was estimated a year ago, the trustees for the federal program announced Friday. The revision was partly due to the slow economic recovery.
The outlook for Medicare, however, could be worse than the sobering estimate implies. In their annual report, the trustees warned that their projections were based on "debatable" savings assumed under President Obama's health-care reforms, known as the Affordable Care Act.
Specifically, the Affordable Care Act calls for payment reductions in most Medicare services based on expected productivity growth in the economy. The law also calls for downward adjustments in payment rates to physicians.
While not rendering a verdict on those assumptions, the trustees noted that Congress has often failed to successfully implement such measures to curb the cost growth within the program, which covers key health-care costs for most seniors.
Even with the optimistic assumptions in place, the report shows a wide long-term gap between Medicare costs – including hospital insurance, physician fees, and drug benefits – and the payroll-tax revenues designed to support the program.
A $33 trillion Medicare gap
The report estimates the size of that gap over the next 75 years at some $33.8 trillion. That's more than two years worth of the nation's economic output. Put another way, an extra 3.8 percentage points of gross domestic product (GDP) would need to be set aside, perpetually, by taxpayers to fill that gap, the report said.
In recent years, the US has been spending about 15 percent of GDP on health care.
---