Endeavour flight: the NASA shuttle launch that disappeared
Endeavour flight watchers, including Rep. Gabrielle Giffords, were able to watch the picture-perfect NASA shuttle launch Monday for only 12 seconds because of an unusual situation.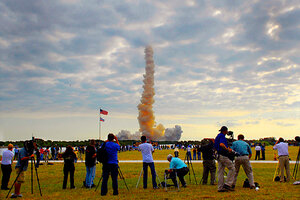 Craig Rubadoux/Daytona Beach News-Journal/AP
After a 17-day delay, the space shuttle Endeavour and its six-member crew arced into the sky Monday morning on a 16-day mission to the International Space Station.
The Endeavour flight marks the 25th and final voyage for the shuttle, the youngest shuttle in what once was a four-orbiter fleet. When wheels touch the runway again on June 1, the orbiter will have logged more than 115 million miles in space.
Atlantis, the final orbiter remaining, is expected to make its final NASA shuttle launch in July.
For spectators, including US Rep. Gabrielle Giffords (D) of Arizona, whose husband is commanding the mission and who is recovering from a gunshot wound received in during a January shooting rampage in Tucson, Ariz., Endeavour's liftoff was as close to a "blink and you'll miss it" launch as they come.
Roughly 12 seconds after the engines ignited, the orbiter vanished into a low-hanging layer of clouds, visible beyond that point only to tracking cameras on the ground at a cloud-free site north of the launch pad, and to an aircraft operated by range-safety officers with the US Air Force.
"It was a fantastic launch," said Michael Moses, who headed the prelaunch mission management team. But "we apologize that the view wasn't the best."
---