Strauss-Kahn case raises question: How safe are hotel employees?
Violent crimes against hotel employees, as is alleged in the Strauss-Kahn case, are rare, but they do take place. Industry experts say protecting staff and making them feel safe is a priority.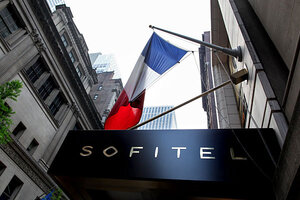 Craig Ruttle/AP
Every hotel counts on its housekeeping staff.
They strip the sheets after a guest leaves, clean the tub and toilet daily, vacuum the room, and then get to do it all over – again and again – for anywhere from $12 to $15 per hour.
Now, in the wake of the allegations that Dominique Strauss-Kahn, the head of the IMF, sexually assaulted a housekeeper at the Sofitel Hotel, there is a new focus on these essential employees.
How safe are they? Do hotels report attacks on their staff or try to cover up the bad publicity?
Lawyers and experts involved with the hospitality industry say sexual harassment is taken seriously. One of the main reasons: If the hotel staff does not feel safe, they are not likely to be happy – no matter how much they get paid. Luxury hotels especially do not want the reputation of being unsafe or condoning attacks on their staff. And most hotels are not afraid to tell guests who are involved in inappropriate behavior to pack their bags and leave.
"Hotel management has an obligation to protect the employees," says Roy Maize, director of the Restaurant, Hotel and Meetings program at the University of Alabama in Tuscaloosa and a former hotel Human Resources manager. "If there is a criminal offense they would be obligated to take action."
Although crimes in hotels are relatively rare, they do take place. Between 2004 and 2008, the Bureau of Justice Statistics reports there were on average 7,840 violent crimes a year in hotels or motels. This is only 0.1 percent of all violent crimes.
---