Conditions in Atlantic ripe for big 2011 hurricane season, US says
2011 will be another above-average year for Atlantic hurricanes, says the National Oceanic and Atmospheric Administration (NOAA). Plan your evacuation strategy now, warns FEMA.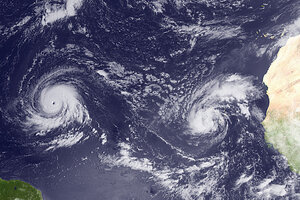 NOAA/AP/File
The 2011 Atlantic hurricane season, which begins June 1, looks to be another above-average year, federal forecasters say, adding that residents along the Gulf and East Coast should make sure now that they know what to do if ordered to evacuate.
In an outlook released May 19, forecasters at the National Oceanic and Atmospheric Administration's Climate Prediction Center are calling for a 70 percent chance of 12 to 18 storms with tropical-storm-force winds or higher.
Of these storms, which would receive names ranging from Arlene to Sean, six to 10 are expected to grow into hurricanes. Three to six of these are likely to become major hurricanes, with winds in excess of 111 miles an hour.
The outlook brackets a similar forecast from Colorado State University's Tropical Meteorology Project.
In April, the most recent outlook, Philip Klotzbach and William Gray, who pioneered seasonal hurricane forecasts for the Atlantic, called for 16 named storms, of which nine are expected to become hurricanes. Of those nine, five are expected to become major hurricanes.
In a typical season, the Atlantic basin might see 11 named storms, six hurricanes, and two major hurricanes.
Last year, conditions in the Atlantic and Caribbean spawned 19 named storms, the third-highest number on record, according to Jane Lubchenco, who heads NOAA. Twelve of those storms became hurricanes, the second-highest number of hurricane ever recorded in one season.
---