Nuclear power safety: Latest on Japan crisis fuels new concern in US
Nuclear Regulatory Commission still insists that US nuclear plants with same design as Japan's stricken Fukushima Daiichi facility are safe. But watchdog groups cite failed venting system, which led to hydrogen explosions.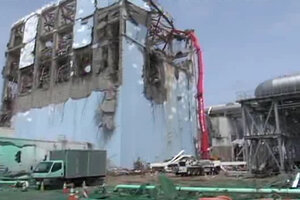 Tokyo Electric Power Co/Reuters
As the nuclear plant crisis in Japan reveals more vulnerabilities in facility operation and design, calls are being renewed to change the way nuclear plants are evaluated and regulated in the United States.
Just a week ago, officials at the US Nuclear Regulatory Commission reported that America's nuclear plants are safe, noting that some gaps had been addressed or were being addressed as a result of an initial safety review to apply lessons learned from the tsunami-stricken Fukushima Daiichi nuclear plant.
Up to that point, the Fukushima facility had experienced an alarming string of crises: partial core meltdowns, station blackout, exhausted backup batteries, hydrogen explosions, fires in spent-fuel pools, failed cooling systems, and radioactive water and air released to the environment. In the US, 23 reactors have the same design as those at Fukushima. But NRC regulators assured the public last week that those reactors had been updated with special safety equipment. "Hardened vents" on the reactors would prevent a hydrogen buildup and explosion, they noted.
Since then, however, the news from Fukushima has gotten worse. On Sunday, Tokyo Electric Power Co. said the uranium fuel core in its No.1 unit had melted completely – a worse condition than previously believed – and apparently seared a hole in the reactor vessel. Core meltdowns at the No. 2 and No. 3 reactors also are more serious than earlier believed.
---