What's really behind harsh GOP responses to Obama's Middle East speech
How much of the Republican candidates' harsh reaction to President Obama's policy speech on the Middle East and the Israeli-Palestinian dialogue was campaign strategy?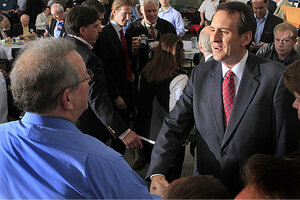 Jim Cole / AP / File
The GOP presidential contenders' harsh reaction to President Obama's Middle East speech Thursday reflects multiple realities heading into the 2012 campaign.
First, the candidates need to demonstrate knowledge of foreign policy. Most of them have little first-hand experience in foreign affairs, and so going up against the now-experienced Mr. Obama presents a challenge – especially following the US military's killing of Osama bin Laden.
Second, Republicans will pounce on any comments by Obama that can be construed as overly harsh toward Israel, in a reflection of Israel's special status in American politics. Obama needs a strong Jewish vote – and Jewish financial support – to win reelection, and so the Republicans will seize any opportunity to try to drive a wedge between Obama and Jewish voters.
Third, as the campaign heats up, it almost goes without saying that if Obama argues A, the Republican candidates will argue B. They need to create contrast wherever possible.
The most salient point of contrast came with Obama's assertion that negotiations over a future Palestinian state should use the borders that predated the 1967 Six-Day War as a starting point. Republican candidates are ignoring the fact that Obama left some wiggle room on how exactly to draw new borders; he said they should be set "with mutually agreed swaps" of land. It was the first time an American president had fully articulated the US's Israel-Palestine border position in public, and Republicans pounced.
---