Apocalypse Not: Harold Camping wrong – again – about 'The Rapture'
Harold Camping had prophesied that the world as we know it would end today. But the time has come and gone, and "The Rapture" has not occurred.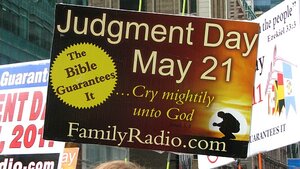 Newscom
Hello? Hello?
Anybody there? Are we still here?
Oh, whew! For a moment there I thought Judgment Day actually had come today, as California preacher and religious radio broadcaster Harold Camping had predicted. And I'm really, really not ready.
RECOMMENDED: Judgment Day? Five failed end-of-the-world predictions
There's a lot I still have to do. Like organize my sock drawer and change the strings on my banjo. Not to mention apologizing for some – er – indiscretions that have been weighing on me since forever. (Which have nothing to do with the banjo.)
I mean, if there really is going to be an "end times" or "the rapture" or whatever, I definitely don't want to be left behind. So whoever's listening out there, I do believe, I do believe, I do believe! And I promise to be good from now on.
But it looks like we're all off the hook … for now, anyway.
Mr. Camping had prophesied that at 6 p.m. Saturday (local time around the world) the "saved" would ascend to heaven and the rest of you – OK, the rest of us – would be wiped out by October in earthquakes, floods, and war.
But that fateful hour has come and gone in the Pacific islands, New Zealand, Australia, and on through east Asia, and it's turned out to be "Apocalypse Not." Either that or nobody in that part of the world was worthy of ascension.
---