Louisiana's Cajun country braces for historic flooding
Residents in Louisiana's Cajun country are preparing for what's expected to be the worst flooding in more than 80 years as the Mississippi surges toward seven rural parishes along the Atchafalaya River Basin.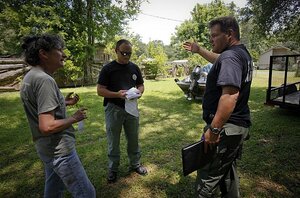 Lee Celano/Reuters
Battered by recent hurricanes and last year's BP oil spill in the Gulf of Mexico, residents of Louisiana's Cajun country are now bracing for the biggest river flood the area has seen in over eighty years.
A week ago the US Army Corps of Engineers opened the Morganza Spillway north of Baton Rouge, sending torrents of flood water from the Mississippi into the Atchafalaya River Basin.
Designed to spare Baton Rouge and New Orleans from severe flooding, the diversion into the Atchafalaya could bring 5 to 25 feet of water to seven rural parishes along the river basin, affecting more than 25,000 people.
RECOMMENDED: Mississippi River floods
Parish officials have welcomed the news that the corps will likely open 25 percent of the Morganza's capacity instead of the predicted 50 percent, a decision that could lower flood levels.
Though the river and surrounding bayous are topping their banks, floodwaters that were expected to have already inundated some communities along the Atchafalaya are moving slower than forecast.
---