Report: 'Unacceptable threat' from spent-fuel pools at US nuclear power plants
Overcrowded spent-fuel pools at US nuclear power plants pose an 'unacceptable threat to the public,' says risk assessor. Much of the leaked radiation from Japan's stricken Fukushima Daiichi came from spent-fuel pools.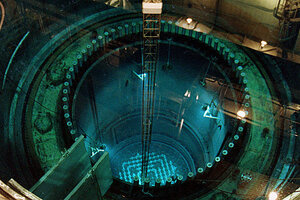 Toby Talbot / AP / File
A spent-fuel pool fire at the Fukushima Daiichi nuclear power plant made headlines after March's earthquake and tsunami – but the threat may be worse in America.
Spent nuclear fuel stored in water-filled pools at many nuclear reactor sites in the US far surpasses in volume and radioactivity the threat posed by such material at Fukushima, according to a new study.. The huge hazard could be largely eliminated by moving older materials from the pools into dry cask storage, it said.
"Unprotected and crowded spent nuclear fuel pools pose an unacceptable threat to the public," said Robert Alvarez, a senior scholar for nuclear policy at the nonpartisan Institute for Policy Studies (IPS), as well as a former Department of Energy official in the Clinton Administration, in a statement.
"Dry cask storage is a much safer alternative to pools. Some people say they are too expensive, but considering the extreme risks, the cost of doing nothing is incalculable," he added.
A new report from the IPS, "Spent Nuclear Fuel Pools in the US: Reducing the Deadly Risks of Storage", written by Dr. Alvarez, details for the first time how much radioactivity is contained in spent nuclear fuel at all individual reactor sites in the United States – and the threat they pose.
Today, some 65,000 metric tons of spent fuel is stored at reactor sites around the country, 75 percent of it in US spent-fuel pools, according to data from the Nuclear Energy Institute cited in the report. The other 25 percent is in dry cask storage. Each pool contains spent-fuel rods that give off about 1 million rems of radiation per hour at a distance of one foot – a fatal dose in seconds, the report says. The radiation is kept in check by tons of water continually flowing around the rod assemblages.
---