Atlanta Thrashers to Winnipeg: Beginning of the end for 'Sun Belt' NHL?
The Atlanta Thrashers have been sold to a business group that intends to move the team to Winnipeg next season. The looming question is whether the move will set off a chain reaction.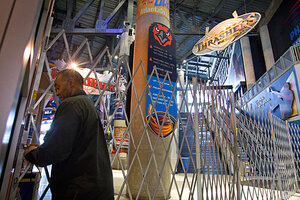 David Goldman/AP
The National Hockey League's ambitious expansion into the Sun Belt during the 1990s took its first backward step Tuesday with news that the 11-year-old Atlanta Thrashers are set to move to Winnipeg – one of the Canadian cities that lost its team to that southern binge 15 years ago.
Now, with other franchises in sunny climes struggling, the question facing the league is whether the Winnipeg move marks the beginning of a great retrenchment, with professional hockey moving closer to its northern roots, or whether this is merely a one-off event.
NHL Commissioner Gary Bettman warned against broader interpretations of the Winnipeg move, which will become official only if approved by the NHL board of governors on June 21. "We will continue to resist moving franchises, and other communities shouldn't be reading anything into what's happening here into any other situation," he said.
Yet to many fans, the return to Winnipeg – which saw its Jets move to Phoenix in 1996 and become the Coyotes – marks a necessary shift of the sport's center of gravity northward.
"Hockey is back where it matters and is important," former Calgary Flames general manager Craig Button told the NHL Network's "NHL On The Fly." "And there's no better time to come back to place where hockey has been important."
Southward shift
---