National Spelling Bee: 275 students vie (vye? vigh?) to make semifinals
The Scripps National Spelling Bee, shown Wednesday on ESPN-3, is under way, with 275 grade-schoolers battling it out in preliminary rounds. By Thursday, just 50 will be be left spelling.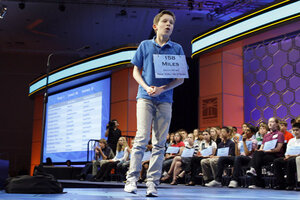 Jacquelyn Martin/AP
Could you spell succedaneum? Or autochthonous?
This week is the Scripps National Spelling Bee – otherwise known as the time of year when ESPN viewers ogle in awe at the orthographic capabilities of grade-schoolers.
On Wednesday, 275 contestants are battling it out in the preliminary rounds, where their success in both written tests and oral competition will determine which 50 (at most) advance to the semifinals Thursday, and then to the finals Thursday evening.
Included in their ranks: one eight-year-old, two nine-year-olds, and 13 ten-year-olds (along with the much larger groups of older spellers, who must not have moved beyond eighth grade before Feb. 1). Some have come from as far away as Japan, Guam, New Zealand, and South Korea.
All have won both a school and a regional competition, and most have spent hours poring over words in "Spell It!," the booklet put out by Scripps and Merriam-Webster to help students study for spelling bees.
---