How attack on Google's Gmail skirted US security roadblocks
FBI will investigate Google charges that several hundred Gmail accounts were hacked by perpetrators in China. With the attack, hackers found 'a way around a roadblock,' one expert says.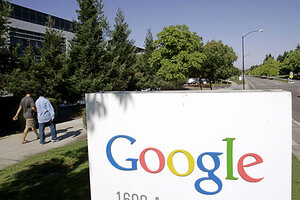 Paul Sakuma/AP/File
Theft of e-mail account passwords and volumes of e-mail from hundreds of Gmail accounts was part of a systematic "campaign" by Chinese hackers to target senior US government officials, Chinese political activists, and officials of Asian nations – many from South Korea, including military personnel and journalists, Google officials say.
At least some US State Department employees may have been targeted by the hacking campaign. The effort did not seem geared to stealing credit-card or banking information, but rather appeared to be harvesting e-mail from US and other key officials with knowledge about Chinese affairs, cyber experts say.
The methods used in this latest Gmail hack attack, revealed by Google on Wednesday, resemble those of a 2009 attack that harvested information from 1,295 computers in 103 countries. Nearly a third of those machines were located in "high value" places such as embassies, international organizations, and news media. The common thread: All shared a focus on Chinese affairs concerning Tibet, says Rafal Rohozinski, a principal the SecDev Group, an Ottawa-based cybersecurity consulting firm.
That year, he and colleagues and the University of Toronto exposed a worldwide espionage network they dubbed "Ghostnet."
---