Ongoing rains worsen record-breaking floods along Missouri River
Rising waters threaten Montana, North Dakota, and South Dakota, and are expected to push south soon. The Midwest will be underwater all summer, say officials.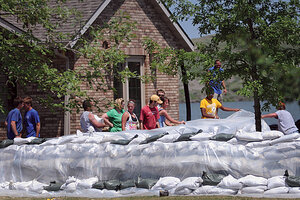 Chris Mangan / Capital Journal / AP
Heavy flooding along the Missouri River will last throughout the summer, predict federal officials. The surging waters, created by unprecedented weather conditions, have already caused levee failures, and more are expected to come.
The Missouri River and its tributaries in Montana, North Dakota, and South Dakota are swelling with water. A confluence of factors are driving the rising waters, notably the record heavy snowfall earlier this year in the Rocky Mountain region. Snow accumulation was 140 percent above normal, says Lynn Maximuk, director of the National Weather Service in the central region.
"We do have quite an unusual set of circumstances, meteorologically," Mr. Maximuk told reporters Monday afternoon.
The unusually heavy snows – combined with ongoing heavy rains, expected to continue all summer – will create a total runoff of some 55 million acre-feet of water, according to projections from the US Army Corps of Engineers. (An acre-foot of water is the equivalent of one foot of water covering one acre of land.)
That's the highest runoff level since they began keeping records in 1898.
The immediate danger this week comes from heavy storms, expected to move south along the river valley. Meteorologists predict that 2 inches of rain in Montana and North Dakota and up to 3 inches of rain in Omaha, Neb., will fall over the next few days, Maximuk says.
---